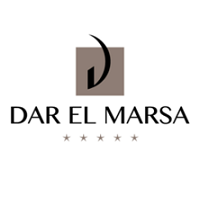 Dar EL Marsa: A 5 stars boutique hotel at the heart of La Marsa, in front of the sea, invites you within its perfect "lifestyle" universe. A unique experience that would turn your stay into an unforgettable moment.

AWith all the advantages linked to the accommodation Offer:Our "welcome Dar"
– free wifi in all the hotel
– coffee machine with free capsules
– express ironing service
– polishing service
– free access to Sauna
– Fitness and Hammam from 6a.m to 10 pm at Dar el Marsa Spa.
Upgrade to a sea view room
Breakfast served in rooms or at the buffet.
Hammam and exfoliation
A 30 minutes Relaxing massage

Dar Sabri in Nabeul: lthe Cap Bon region sits at the meeting point of the sea and the mountain. The refinement of your accommodation in "Dar Sabri" harmoniously allies tradition with modernity. While wandering in the medina of Nabeul, you will discover the richness of its handicraft and taste the sophisticated family kitchen of "Dar Sabri".
Spend a morning's journey accompanied by our historian to discover Nabeul, its medina, its craftsmen and the pacific cohabitation of the Muslim, Jewish and Christian communities.
Ymen suite with breakfast.
Dinner at the table d'hote of Dar sabri
1 hammam and 1 relaxing massage of 60min per guest.
The price of 650€ per guest includes
Transfer from the airport/ Dar el Marsa Hotel
2 nights at Dar el Marsa with breakfast in a sea view room
1 hammam+ exfoliation and a relaxing massage of 30min for 1 person
transfer from La Marsa to "Dar Sabri"
2 nights at Dar Sabri with breakfast at the ymen suite.
1 hammam and 1 relaxing massage of 60 minutes per guest.
Dinner at the table d'hote of "Dar Sabri"
1 morning with our historian to discover Nabeul.
Transfer Nabeul/ Tunis airport.
Reserve by mail : sales@dartodar.travel
T. : +216 71 740 206 / +216 72 272 877 – www.dartodar.travel