As close to the desert as possible in Tozeur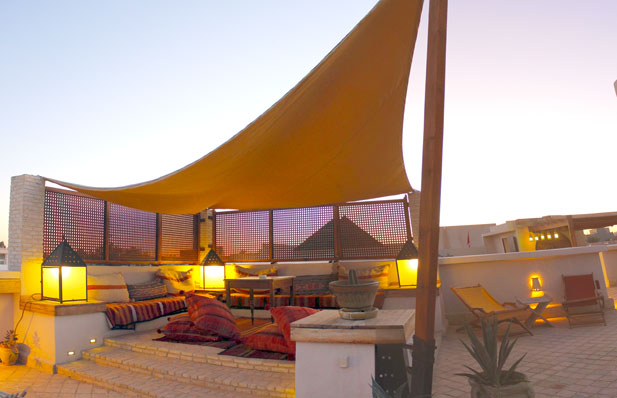 Explore the desert and its mountain oases in an Arabian Nights' palace in the centre of the Saharan town of Tozeur.
5days/4nights
Immerse yourself in Tozeur where dromedaries live alongside fennec foxes and the crude brick architecture borders the palm grove, then set off for the end of the Atlas mountain range, be amazed as you explore the mountain oases, roam the gorges of the Selja wadi in a hundred-year-old miniature train and experience the desert.
Budget: 
5days/4nights – flights not included
Private transfer to/from airport.
Bed and breakfast accommodation in a double room at "Dar Sayda Beya".
Your accommodation in the heart of the Medina of Tozeur, a short distance from the palm grove
exploring the mountain oases of Chebika, Tamerza and Midès; picnicking in a mountain oasis (à la carte)
boarding the train belonging to the Bey Tunis to visit the gorges of the Selja wadi (à la carte)
trying out an "accrobranche" obstacle course in the palm grove (à la carte).
Adventure at the Accro'Palm
Find out about life in the oasis perched 7 metres above the ground among the date palms! The whole family can enjoy this adventure-filled day at the Sahara Lounge.
Try out the exclusive parcours accrobranches, or obstacle courses in the trees, in complete safety, for both young and old:  115-metre zipwires, 14 "challenge" sessions, 6 climbing routes and a course specially designed for children aged 2 to 5 years.  A truly sensational day!
The gorges of Selja by miniature train
On offer is an exploration of the canyons carved by the Selja wadi and its magnificent viewpoints aboard the historic miniature train known as the "Lézard Rouge". Admire the arid landscapes and let yourself be lulled for an hour and a half by the rolling motion of this ancient train, formerly owned by the Bey of Tunis, which has been completely restored and equipped as a miniature tourist train.
Picnic in a mountain oasis
In Tamerza or Midès, we can offer you a picnic in the middle of a mountain oasis. The gentle lapping of the spring water, mergoum carpets on the ground and a freshly prepared artisan wicker basket deliciously garnished with seasonal fruits and home-made sandwiches with traditional tabouna bread made from fine semolina baked in a wood-fire oven.  The day continues with a guided walk in the Midès canyon and a visit to the mountain oases: magnificent landscapes to explore.
A Tunisia specialist

Your tailor-made trip

A concierge service

Advisers ready to help you

Five languages spoken

Meetings

Land Rover

An enduring experience

Our Dars

Travel journal