Experienced diving along the Coral Coast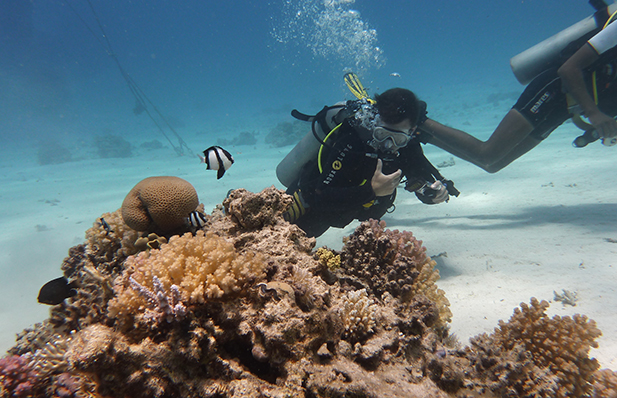 Be amazed at the richness and diversity of the diving sites at Tabarka: from introductory dives to dives where you can perfect your skills
5days/4nights
Along the Tunisian Coral Coast, you can explore various sites combining rich underwater fauna, a shipwreck, caves, tunnels and more. An ideal holiday in this natural aquarium to discover diving, perfect your training or simply dive for pleasure.
Budget:
5days/4nights – flights not included
Return transfer to/from airport.
Bed and breakfast accommodation in the "Couleur Méditerranée" guest house.
Dives on request depending on level.
The diverse pleasures of the Tabarka region
The large beaches bordered with fragrant pine and eucalyptus forests, the rocky shoals and the clear waters
The hinterland (Aïn Draham, etc.)
The archaeological site of Dougga, a World Heritage Site
Dougga, a UNESCO World Heritage site, is an essential place to visit for those wanting to be immersed in the richness of the historical Punic, Numidian, Roman and Byzantine past of Tunisia. Here, the beauty of the ruins is equalled only by the enchanting setting. The site, covering more than 70 hectares, dominates a vast agricultural plain planted with olive trees. The monuments are in an excellent state of preservation so it's easy to imagine the town in its heyday. Triumphal arches, a capitol, a mausoleum, temples, and a theatre which hosts a festival each summer are all available for you to explore.
Antique mosaics of Bulla Regia at the Chemtou quarries
The originality of the Numidian and Roman site of Bulla Regia lies in its two-storey villas: one floor at ground level, whose walls are fairly erased today, and one floor in the basement, frequented in summer to combat the torrid heat that prevails here at that time of the year. The consequence of this characteristic is that the residences are almost intact, with some superb mosaic floors.
Chemtou, meanwhile, is known above all for its quarries of yellow and pink marble which began to be used in decoration in all the prestigious buildings (temples, palaces, rich residences, etc.) across the ancient Mediterranean world. And the exploitation of this richness caused the emergence and then the flourishing of a city in which there are still monuments that can be visited.
Visit the Medina of El Kef, crossroads of civilisations
Visit the Medina of El Kef accompanied by our historian who has a passion for his native city. The Medina of El Kef is one of the most secret and authentic in the country. As a crossroads of civilisations, it will amaze you with its authenticity and its gentle way of life. Standing side-by-side are the monuments that are heirs to the peoples who have created the town throughout history:  mosques, synagogue, zaouïas (Islamic religious schools), Christian basilica, Roman baths, 17th century fortress built on top of the ancient fortress, etc.  A clearly marked cultural route will allow you to discover more about these monuments and also the museum of Sidi Ben Aïssa, dedicated to popular arts and traditions.
A Tunisia specialist

Your tailor-made trip

A concierge service

Advisers ready to help you

Five languages spoken

Meetings

Land Rover

An enduring experience

Our Dars

Travel journal