Total relaxation at Les Thermes Marins de Carthage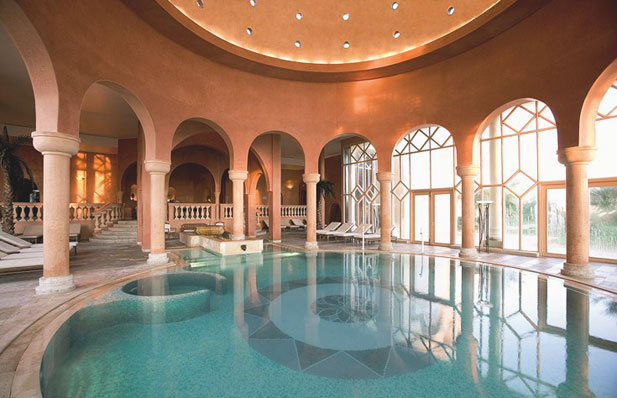 A holiday of sheer relaxation, combining thalassotherapy treatment, an opportunity to explore Tunis, Carthage and Sidi Bou Saïd and an unforgettable palace  
7days/6nights
The hotel "The Residence" is situated right next to the Mediterranean. At the doors of this oriental-style palace, you'll find it hard to contain your excitement at exploring this enchanting setting and its thalassotherapy centre "Les Thermes Marins de Carthage". Without question, this is much more than a thalassotherapy centre: this promises to be an exceptional holiday in Tunisia !
Budget :

 7days/6 nights in a double room with bed and breakfast and sea view at the "The Residence Tunis" – flights not included.
Transfer to/from airport.
6 days of thalassotherapy including 19 treatments.
The elegance of your hotel, "The Residence Tunis", its five restaurants taking you on a culinary journey around the world, the superb, 3500m² "Les Thermes Marins de Carthage" centre equipped with an array of the most comprehensive wellbeing facilities, the variety and the great professionalism of the thalasso-spa treatments, exploring Tunis, Carthage and Sidi Bou Saïd.
Lunch meeting with a Tunisian personality
As the initiator of the "Arab spring", Tunisia was the impetus for the revolutions in the region. The country has always differentiated itself through its openness and its aspiration for democracy. In this exceptional politico-historical context, we can organise for you a lunch or dinner with Tunisians who are at the heart of the current changes: artists, intellectuals, campaigners, business leaders or mere employees who also happen to be players in civil society. You will have an amazing opportunity to exchange views with them and gain a better understanding of the challenges facing Tunisian society, away from the clichés and closer to the facts. This meeting will also allow you to find out more about the traditions, the cuisine and the local culture.
Tunisian cookery lesson
Tunisian cuisine contains the blend of peoples that constitute its history: from Berber semolina to Jewish tagines, Andalusian pastries delicately flavoured with flower water and subtly spiced Spanish stews. We invite you to explore this cuisine and create an entire menu before tasting it in a charming residence in the heart of the Medina of Tunis.
Explore the Medina of Tunis and the Art Nouveau of the capital
In the company of an urban architect and enthusiastic author, you will explore the capital: the secret establishments in the Medina and also modern Tunis and its Art Nouveau. The Medina has the ability to transport you to a unique world that stimulates all your senses. Enter the doors of 17th century palaces, roam the narrow, winding streets, discover the Tunis of days gone by and take the pulse of the modern Tunis in the Central Market, a series of covered halls where all the locals come together to do their shopping amid the joyful shouts of the greengrocers, butchers, fishmongers, cheesemongers, and other traders.
A Tunisia specialist

Your tailor-made trip

A concierge service

Advisers ready to help you

Five languages spoken

Meetings

Land Rover

An enduring experience

Our Dars

Travel journal